Main content starts here, tab to start navigating
International Children's Cancer Research Centre
Ghana


Merging humanity and medicine is the essence of our outreach - TANYA TRIPPETT, MD
Programs Overview
Wish4Life Foundation implements its aid programs in order to address the human side of cancer care. It is critical that we restore the spontaneity and dignity of children while treating their cancer. The empowerment of children through providing tools for education and for play is an example of one of our programs.
While providing material aid and resources is an important objective, establishing partnerships for training and empowering local healthcare professionals is an essential part of the Foundation's outreach. These partnerships are developed in reciprocity with healthcare workers and patients to ensure that the programs respect the culture of the people while addressing urgent areas of concern. A key aspect of these efforts is hands-on work within the local communities, performed in accordance with the Foundation's central philosophy of intellectual philanthropy. The ultimate goal is to perpetuate a high-quality and self-sustaining system of cancer care.
The initial efforts of the Wish4Life Foundation will center on projects to enhance medical education, provide important healthcare services, and empower cancer patients. By operating within this framework, the Foundation will improve both the quality of care and the long-term livelihood of the people. The projects are intended to effectively allocate resources to address multiple facets of cancer care at the same time, ensuring that the Foundation is able to help as many people as possible.
International Children's Cancer Research Centre
To achieve their goal, Wish4Life Foundation has partnered with with one of the world's leading architectural firms, Adjaye Associates, and the leading hospital specialist architectural firm, Jeffrey Berman Architecture. Together, they have developed a model concept of a pediatric cancer center that will insure that children of Africa with cancer have access to the same quality of care as children in the West. Designed in accordance with Western standards, the new hospital will promote the dignity and elevate the spirits of the children and families who are undergoing treatment for cancer while vastly improving their chances for survival. The Foundation has identified an ideal location for the Center in Kyebi, Ghana, whose government has approved the model.
The Hospital is designed to meet high international standards for delivery of quality cancer care which translates to enhanced capacity to cure.
The International Children's Cancer Research Centre will include an innovatively designed and constructed 100 bed hospital and outpatient cancer clinic that will deliver state-of the art cancer care. The model integrates the African culture of the region in its design, enhances the power grid of the locale by utilizing sustainable energy resources (solar powered or a hybrid to reduce operating costs for electricity over time), and creates a soothing, open and restful environment for treatment that promotes healing and recovery for children with cancer and their families. Key areas of excellence will include state-of-the art suites in radiology (including CT, MRI, ultrasound, and nuclear medicine capability), radiation oncology, pharmacy (meeting international standard for sterility), operating suites (3-4 suites), pathology and intensive care.
Nourishing food for patients and their families and housing for children, their families and Hospital staff will be provided on the Hospital campus. Training in food safety and preparation will take place in training kitchens and cafeterias embedded in the Hospital facilities. Outreach to local community leaders and farmers will insure an ongoing supply of food to support children with cancer and their families.
Design Team
The Foundation has recruited an eclectic team of world experts to effectively launch this project. The world-renowned Design Team consisting of top international corporations with expertise in construction of hospitals and/or construction of projects with integration of complex systems in developing nations
Ajdaye Associates
Adjaye Associates was established in June 2000 by founder and principal architect, David Adjaye OBE. Receiving ever-increasing worldwide attention, projects range in scale from private houses, exhibitions and temporary pavilions to major arts centres, civic buildings and masterplans in Europe, North America, the Middle East, Asia and Africa. Renowned for an eclectic material and colour palette and a capacity to unfold cinematically, the buildings differ in form and style, yet are unified by their ability to challenge typologies and to generate a dynamic cultural discourse.
Completed works include: the National Museum of African American History and Culture in Washington D.C. (2016); the Moscow School of Management SKOLKOVO in Moscow (2010); The Nobel Peace Centre in Oslo (2005); The Bernie Grant Arts Centre in London (2007); Rivington Place in London (2007); and the Idea Stores on Chrisp Street (2004) and Whitechapel (2005) – two pioneering new libraries in the London Borough of Tower Hamlets.
The former was nominated for the Stirling Prize in 2006, received a RIBA Building Award in 2005 and has been exhibited at the VIII Venice Biennale of Architecture (2002 and 2005) and the Sao Paulo Biennial (2003).
To learn more about Adjaye Associates please visit their website at www.adjaye.com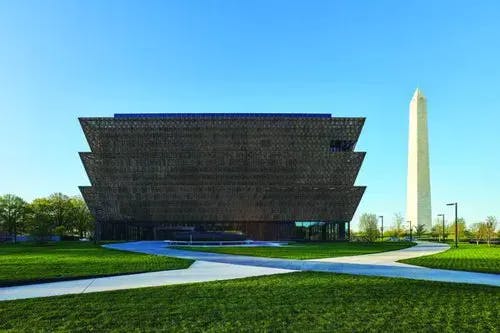 Vista of the Museum from Constitution Avenue, looking across the north lawn to the Washington Monument. Photo credit: Alan Karchmer/NMAAHC.
Jeffrey Berman Architecture
Jeffrey Berman has devoted 35 years to the design of healthcare facilities. He is a Board Certified Healthcare Architect and a founding member of the American College of Healthcare Architects. Mr. Berman's extensive background in science, technology and engineering make him an invaluable consultant both to healthcare institutions and to other architects.
Since founding Jeffrey Berman Architect in 1988, Mr. Berman has been on the leading edge of healthcare design, designing facilities for the major healthcare institutions throughout the New York area, including Memorial Sloan-Kettering Cancer Center, New York Presbyterian Hospital (Columbia, Weill Cornell, Allen, Hudson Valley, Lawrence, Brooklyn Methodist and New York Downtown campuses), Mount Sinai Health System, NYU Langone Medical Center, New York Health and Hospitals Corporation (Harlem Hospital, Woodhull Medical and Mental Health Center, Lincoln Hospital Medical and Mental Health Center, Bellevue Hospital), SUNY Downstate, North Shore-LIJ, The Veterans Administration Health System (Brooklyn and Northport campuses) and Long Island College Hospital.
Mr. Berman was a featured architectural speaker on "Convergence of Imaging and Therapy," at the GE Whitney Global Research Symposium, "Hospital of the Future," in 2010. He is co-author of "Designing Interventional Environments," Image-Guided Cancer Therapy, Springer, 2013, "Design and Construction of Image-Guided Procedure Rooms," Image-Guided Cancer Therapy, Springer, 2013 and "Basic Principles of Lighting in the Operating Room," Imaging and Visualization in the Modern Operating Room, Springer, 2014.
Mr. Berman earned his Bachelor of Science, in Art & Design, Architecture, at the
Massachusetts Institute of Technology. He lives on the Upper West Side of Manhattan and in Candlewood Isle, Connecticut, where he is an avid water skier.